5.5

Preprocessing of Data
5.5.1

Introduction
---
Do not underestimate the power of appropriate data preprocessing — deep neural networks are not a universal replacement for a data engineer's hard work!
On top of that, they are not interpretable – those are merely black-boxes.
Among the typical transformations of the input images we can find:
normalisation of colours (setting brightness, stretching contrast, etc.),
repositioning of the image (centring),
deskewing (see below),
denoising (e.g., by blurring).
Another frequently applied technique concerns an expansion of the training data — we can add "artificially contaminated" images to the training set (e.g., slightly rotated digits) so as to be more ready to whatever will be provided in the test test.
5.5.2

Image Deskewing
---
Deskewing of images ("straightening" of the digits) is amongst the most typical transformations that can be applied on MNIST.
Unfortunately, we don't have the necessary mathematical background to discuss this operation in very detail.
Luckily, we can apply it on each image anyway.
See the GitHub repository at https://github.com/gagolews/Playground.R for an example notebook and the deskew.R script.
---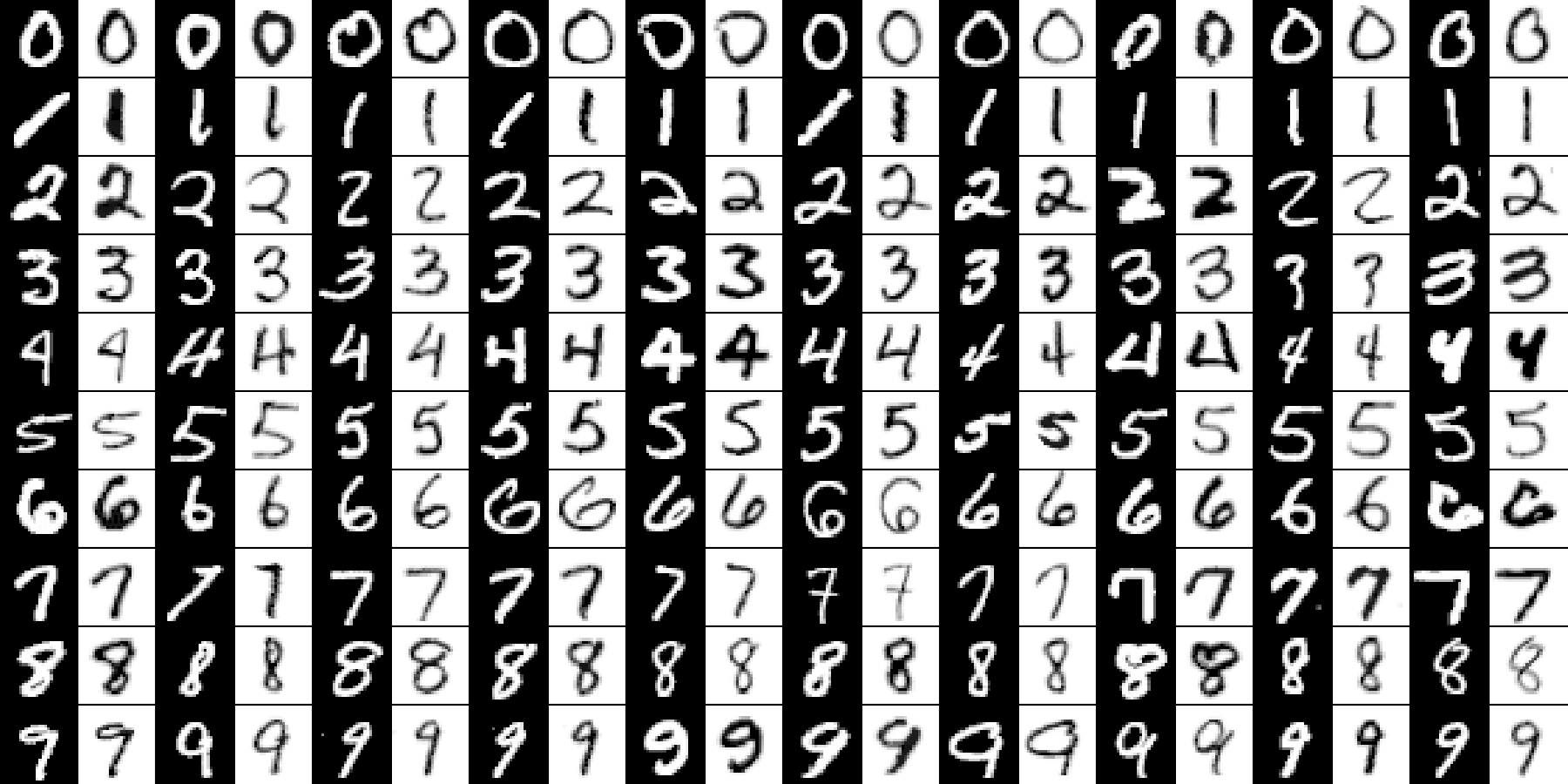 In each pair, the left image (black background) is the original one, and the right image (palette inverted for purely dramatic effects) is its deskewed version.
---
Deskew everything:
Z_train <-

 

X_train


for

 (i 

in

 

1

:

dim

(Z_train)[

1

]) {
    Z_train[i,,] <-

 

deskew

(Z_train[i,,])
}
Z_train2 <-

 

matrix

(Z_train, 

ncol=

28

*

28

)


Z_test <-

 

X_test


for

 (i 

in

 

1

:

dim

(Z_test)[

1

]) {
  Z_test[i,,] <-

 

deskew

(Z_test[i,,])
}
Z_test2 <-

 

matrix

(Z_test, 

ncol=

28

*

28

)
---
Multinomial logistic regression model (1-layer NN):
## [1] 0.9433
---
Performance metrics for each digit separately:
| i | Acc | Prec | Rec | F | TN | FN | FP | TP |
| --- | --- | --- | --- | --- | --- | --- | --- | --- |
| 0 | 0.9933 | 0.9471107 | 0.9867347 | 0.9665167 | 8966 | 13 | 54 | 967 |
| 1 | 0.9951 | 0.9763158 | 0.9806167 | 0.9784615 | 8838 | 22 | 27 | 1113 |
| 2 | 0.9864 | 0.9516129 | 0.9147287 | 0.9328063 | 8920 | 88 | 48 | 944 |
| 3 | 0.9906 | 0.9598394 | 0.9465347 | 0.9531406 | 8950 | 54 | 40 | 956 |
| 4 | 0.9873 | 0.9313824 | 0.9399185 | 0.9356310 | 8950 | 59 | 68 | 923 |
| 5 | 0.9886 | 0.9410431 | 0.9304933 | 0.9357384 | 9056 | 62 | 52 | 830 |
| 6 | 0.9903 | 0.9536354 | 0.9446764 | 0.9491348 | 8998 | 53 | 44 | 905 |
| 7 | 0.9881 | 0.9595551 | 0.9231518 | 0.9410015 | 8932 | 79 | 40 | 949 |
| 8 | 0.9839 | 0.9012833 | 0.9373717 | 0.9189733 | 8926 | 61 | 100 | 913 |
| 9 | 0.9830 | 0.9084713 | 0.9246779 | 0.9165029 | 8897 | 76 | 94 | 933 |
---